2010 San Francisco Award
04/05/2011
TurboTools Corporation Receives 2010 San Francisco Award
FOR IMMEDIATE RELEASE

Small Business Commerce Association's Award Plaque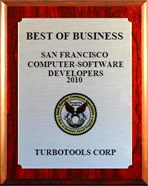 San Francisco CA, April 5, 2011 -- The Small Business Commerce Association (SBCA) Selection Committee is pleased to announce that TurboTools™ Corporation has been selected for the 2010 Best of Business Award in the Computer-Software Developers category.
The SBCA Best of Business Award Program recognizes the best of small businesses throughout the country. Large or small, the SBCA identifies companies that we believe have demonstrated what makes businesses a vital part of the American economy. Award winners are a valuable asset to their community and exemplify what makes small businesses great.
Once again, the Small Business Commerce Association (SBCA) is pleased to congratulate TurboTools™ Corporation for being selected as a Best of Business San Francisco Award winner in the Computer-Software Developers category.
CablEquity™ is a complete end-to-end design and manufacturing solution for hardware system architects and integrators, electrical and electronic engineers and scientists cable and harness designers.
For online demo and FREE evaluation of fully functional CablEquity contact TurboTools Corporation at (415) 759-5599 or visit http://www.turbotools.com
For CablEquity™ license pricing and delivery please contact TurboTools Corporation or its authorized resellers.
About Small Business Commerce Association (SBCA)
The purpose of SBCA is to promote local business through public relations, marketing and advertising. The SBCA was established to recognize the best of local businesses in their community. Our organization works exclusively with local business owners, trade groups, professional associations and other business advertising and marketing groups. The SBCA Community is a great service to provide access to Federal, state and local government.

CONTACT:
Compliance Manager
Small Business Commerce Association
548 Market St # 35785
San Francisco, CA 94104, USA
URL: http://main.smallbusinesscommerceassociation.org
TurboTools, the TurboTools logo, CablEquity and HES are trademarks of TurboTools Corporation.